Graduate Program in Russian and East European Studies
Israeli Inter-University MA and PHD Program in Russian and East European Studies
The Inter-University MA and PHD Program in Russian and East European Studies is an innovative inter-disciplinary framework for cooperation in teaching, research and dissemination of knowledge among five leading research universities in Israel:




Ben-Gurion University of the Negev, Bar-Ilan University, Haifa University, Tel Aviv University and the Open University.


The specialization provides an in-depth introduction to social, political and cultural aspects of the geographical area of
East-Central Eurpoe.
The program is taught as part of the existing curriculum in the departments of History, Jewish History, Literature, Art,
Jewish Thought and Sociology/ Anthropology at the partner
universities.


It offers reasearch or non-research tracks and is MA degree registered.




Registration is open through each of the partner universities, subject to their academic approval.





FOR MORE INFORMATION PLEASE CONTACT:

This email address is being protected from spambots. You need JavaScript enabled to view it.
YOU CAN REACH US AT: 03-6409608
OR CONTACT THE PROGRAM REPRESENTATIVES IN PARTNER UNIVERSITIES ON THE 'CONTACT US' PAGE

A full list of classes offered by partner universities can be found in the following LINK
Outstanding students in the research track will be able to enjoy
scholarships and research grants at the discretion of the program's steering committee.



2022 Young Scholars' Conference
MA and PhD grants
Fellowships in Russian and East European Studies 2022-2023
The Inter-University Program in Russian and East European Studies offers yearly fellowships for MA and PHD students from the humanities and social sciences whose research focuses on the areas of Russia and East-Central Europe, and who are enrolled in the partner universities
Full details on the application process and the conditions of the fellowships will be published at the beginning of the 2022-2023 academic year:
Zmanim no. 137 - 1917 revolutions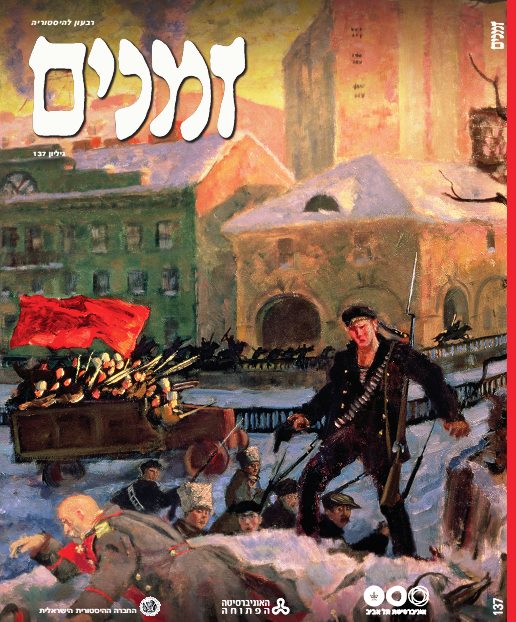 "Zmanim" issue no. 137 - Marking one hundred years to the Russian Revolutions

We are very pleased to announce the publications of the new and comprehensive issue of the "Zmanim" Journal, dedicated to marking one hundred years to the Russian revolutions.
This issue delivers to its readers the current research - in Israel and globally - regarding various aspects of the Russian Revoultions, from the popular image of the monarchy and testimonies of the February Revolution, through the revolutionary labor movement and culture, the role of alcohol in the revolution, and the meaning of revolutionary tribunals - to a look at the Ukranian national movement and the Russian emigration following the civil war.
The issue's guest editors were Dr. Vera Kaplan and Dr. Dina Moyal.
Contents:
Vera Kaplan / One Hundred Years Later: What Happened to the Russian Revolution?
Semion Lyandres / The Fall of Russia's Old Regime, February-March 1917: New Evidence and Interpretations.
Documents: The February Revolution - Testimonies
Boris Kolonitskii / The Image of the Tsar and the Popular Image of the Monarchy in the Period of the First World War
Michael Melancon & Alice Pate / Bakhtin Contra Marx and Lenin: A Polyphonic Approach to Russia's Labor and Revolutionary Movements
Inna Shtakser / Two Revolutionary Cultures in Early Twentieth Century Russia.
Igor Narskii & Iulia Khmelevskaia / Intoxicated by Revolution: The Robbing of Alcohol Warehouses in 1917.
Matthew Rendle / Revolutionary Tribunals and the Role of 'Revolutionary Justice' in Russia's Civil War
Mark von Hagen / "I love Russia, and/but I Want Ukraine," or How a Russian General Became Hetman of the Ukrainian State, 1917-1918
Raanan Rein / Barcelone 1936: The People's Olympiad that Never Took PlaceTimur Saitov / Istanbul – Constantinople – Tsargrad: The First Capital of Russian Emigration.
Book Reviews:
Gadi Algazi on Robert Bartlett, The Making of Europe: Conquest, Colonization and Culture Change 950-1350Netta Green on Robert Darnton, The Great Cat Massacre and Other Episodes in French Cultural History
Dina Moyal on Yanni Kotsonis, States of Obligation: Taxes and Citizenship in the Russian Empire and Early Soviet Republic
Scott Ury on Elissa Bemporad, Becoming Soviet Jews: The Bolshevik Experiment in Minsk
The Israeli Inter-University Academic Partnership in Russian and East European Studies I University of Haifa I Mount Carmel Haifa 3103301 I P.O Box 3338 I Phone : 03-640-9608 This email address is being protected from spambots. You need JavaScript enabled to view it.
Build & Designed by Computing Division - Faculty of Humanities - Contact : This email address is being protected from spambots. You need JavaScript enabled to view it.